SPONSORED BY IG WEALTH MANAGEMENT     Nov. 16-19, 2023
Holiday Alley is a Red River North Tourism project, sponsored by IG Wealth Management. This winter festival brings art, light, sound, creativity and culture to the heart of Selkirk's old downtown and to Red River North.
Spirited by downtown redevelopment and business rejuvenation, Holiday Alley boasts more than 130,000 installed LED light bulbs on 40 buildings, community events and art-forward entertainment.
Holiday Alley is committed to reconciliation through meaningful partnerships with Indigenous and Métis-led organizations and businesses, hiring Indigenous and Métis artists and musicians, and leading with the support and knowledge of Elders and Knowledge keepers.
Community Report Cards
See our progress year over year:
Community Report Card 2022
Community Report Card 2021
Community Report Card 2020
Community Report Card 2019
Community Report Card 2018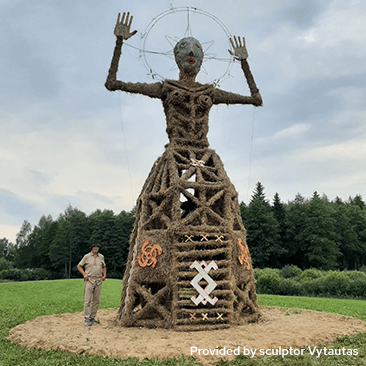 STRAWESOME SCULPTURES
New to Holiday Alley
Sign-up to receive our Holiday Alley E-News! Be the first to know about upcoming events and planning for 2023.  You can unsubscribe at any time.
©2021 All rights reserved by Holiday Alley.