12ish DAYS OF HOLIDAY ALLEY     Nov. 19-30, 2021
For two weekends, Nov 19-21 and Nov 26-28, the Manitoba Métis Federation and Stanley Electric & Mechanical Ltd. sponsors Holiday Alley's big tent filled with local musicians and merry makers – for all ages. Hosted in Selkirk Park get ready to tap your toes in your boots and clap your mittens for musicians you've missed and some you're just getting to know and love.
Check Holiday Alley's Facebook and Instagram for the up-to-date list of performers in the Community Canopy!
The Community Canopy is located in the Agriculture Building in Selkirk Park. 
Directions – Drive into the park, as usual, and follow the Holiday Alley arrow signs! The Ag Building has a large Holiday Alley sign in the back.
Health Protocols –

Masks must be worn while standing and entering the building and can be removed after being seated with your group to eat and drink!⠀
⠀
Continue to social distance! It's great to greet everyone you know, but try to do it from afar! ⠀
All eligible guests, artists, facilitators, and volunteers must provide proof of vaccination and ID!
⠀

Parking – The ample parking lot is in front of the building as well as additional parking in the rear.
Accessibility – The Ag Building is wheelchair, walker, and stroller accessible in both the front and rear doorway. There are two accessible parking spots in the rear and an accessible porta potty available.
Seating – There are 18 picnic tables and multiple sturdy chairs (with no arms) for seating available. Attending groups are asked to sit together.
Food & Drinks – You can bring your own coffee, tea, take-out meals, and snacks! 
We will have the Lemon Train onsite offering goodies throughout the weekend. And we highly encourage picking up from one of our local favorites!
Pets – No pets in the canopy until we host our Pooch Parade on Sunday, Nov 28. Service animals are always welcome.
WEEKEND ONE | NOV 19 - 21
Nov. 19 | 7pm - 10:30pm | FREE
BIRTHDAY BASH – KICK OFF NIGHT
It's time we kickoff Holiday Alley with the biggest birthday celebration. It's a night of music, dance, celebration, and community. And you're all invited! Come early and stay late!
Featuring music and entertainment by,
Winston Wuttee & Morgan Grace
Dean Davis, Payton Anderson & Tatiana Allard

Brenton David

Dark Horse

Hosted by – April Hourie!
Nov. 20 | 10am - 12pm | $10 PER PERSON
VICTORIAN CHOCOLATE
Friends of Lower Fort Garry plan to show and share a special 1861 recipe of a rich, creamy, chocolate beverage!
Only 10 people per workshop. First come, first serve.
Workshop times: 10am, 10:45am, 11:30am
Cash or Credit accepted for this event.
(Ingredient list: shaved chocolate, sugar, cream, eggs, isinglass – boiled down fish bladder.)
Nov. 20 | 1pm - 4pm | FREE
SPIRIT CREATIONS

Bercier Family Drum Teachings – Learn hands-on and understand the meaning of the drum with the Bercier family.
Tyson Prince + Elder Interpretation  

– Tyson Prince and his grandmother Cheryl Prince will be sharing the history of the Chicken Dance.

Kind Kookums –

Our community has some wonderful kookums and they're spreading their love and kindness through storytelling, workshops, crafts, and more this holiday season. Kookums include Joy Clemons and Jeannie White Bird. Presented by Anishinaabe Gikinoo'amaagoownan – The People's Teachings.
Nov. 20 | 7pm - 10:30pm | FREE
NAKAMOTÁN, NIMITÁN!
Music isn't just what we hear, it's what we feel. Enjoy an evening of music by some of Turtle Island's talented Indigenous and Métis artists. "Nakamotán, Nímitán" is Ininiw (Cree) for "Let's Sing, Let's Dance" translated by Grace Schedler.

Featuring music and entertainment by,
The Acoustic Variant

Big Jay Jablonski
Rhonda Head
STUN

Disraeli Dreamers
Nov. 21 & 27 | 8am - 8:45am | FREE
COOL YOGA with Glow Fitness & Yoga
Grab your yoga mat, towel, or blanket, and dress warmly for this beginner yoga session with Glow Fitness & Yoga in the canopy. Glow Fitness will take you through an easy warm-up class to help get your day started!
Nov. 21 | 10am - 12pm | FREE
RED RIVER SASH with Edgar Desjarlais
Learn to finger weave the ins and outs of the Red River sash through this construction paper project led by Métis facilitator, writer, and singer Edgar Desjarlais! Sessions start at 10:00am, 10:45am, and 11:15am.
Nov. 21 | 1pm - 4pm | FREE
RED RIVER FIDDLE & JIG JAM
It's time to feel the energy of the fast fiddle and jiving jig! We're ready for the rush of the Red River fiddle and jig!
Featuring music and entertainment by,
Morgan Grace
Double The Trouble
& jigger Tatiana Allard
Calling all jiggers! Come jam out!
WEEKEND TWO | NOV 26 - 28
Nov. 26 | 6pm, 8pm, 10:30pm
Doors Opens at 5:30pm | FREE
HOLIDAY MOVIE NIGHT presented by Canadian Tire Selkirk
Pack your blankets and grab some snacks on the way for a night of classic (and cult classic) holiday movies with your community! Limited seating (picnic tables) are available - so come early.

"Dr. Seuss' How the Grinch Stole Christmas" | 6pm

"Christmas With The Kranks" | 8pm

"Silent Night" (2012) | 10:30pm (18+) – Filmed in Selkirk, MB!
Nov. 21 & 27 | 8am - 8:45am | FREE
COOL YOGA with Glow Fitness & Yoga
Grab your yoga mat, towel, or blanket, and dress warmly for this beginner yoga session with Glow Fitness & Yoga in the canopy. Glow Fitness will take you through an easy warm-up class to help get your day started!
Nov. 27 | 10am - 12pm | FREE
CRAFTING IN THE CANOPY
Letters to our Elders –

With the help of Canadian Mental Health Association Interlake-East, stop by for card crafting and letter-writing sessions will then be delivered to senior care homes across the Interlake. Supplies provided or bring your own!




Or create a card or letter at home and drop it off CMHA, 435 Main St, Selkirk by November 30.

Letter Peddler Press –

Create your own postcard this holiday season and send it to someone you love! Assemble and print your own postcards using custom laser cut bamboo press blocks.

DIY Designs with Fair Trade Selkirk –

Making a positive global impact is easier than you think. Get painting and crafting on your own fair trade bag, presented by City of Selkirk.
Nov. 27 | 3pm - 5pm | FREE
LOCALS ONLY MUSIC
An afternoon of home-grown music! This one is for the lovers of raw music.
Featuring music and entertainment by,
Proven Guilty
Double Bourbon
Ronnie Ladobruk
Nov. 27 | 7pm - 10:30pm | FREE
MUSIC & THE MÉTIS
Our community is homeland to the Métis people – and we're here to honour our homeland with music and incredible musicians.
Featuring music and entertainment by,
Brandi Vezina

Kristen Mckay

Dan Scramstad

Martin Desjarlais
Nov. 28 | 1pm - 4pm | FREE
CRAFTERNOON
Enjoy an afternoon of crafting in the canopy! This DIY event lets kids and families explore the creative side of crafting.
Nov. 28 | 6pm | $5 PER DOG – Enter by Nov. 20
BARK FOR OUR BIRTHDAY | SELKIRK ANIMAL POOCH PARADE
Even dogs love a parade, sponsored by the Selkirk Animal Hospital! The theme? Holiday Alley's 5th Birthday, of course. Best dressed pooch and its human partner win prizes after parading on stage at our Community Canopy – in their best "lit-up" birthday-themed costume.
Calling all dandy dogs—get details on how to enter >
*LOCATION CHANGE *  TO RIVERSIDE GRILL, 386 Eveline St
Nov. 28 | 8am - 12pm
PANCAKE BREAKFAST WITH SANTA
$12 – General | $6 –Children (12 & Under) | Cash, Credit, Debit
Enjoy a hearty breakfast of pancakes, family entertainment, and community joy! Proceeds were donated to the Marine Museum.
Pancake Breakfast is hosted by the Marine Museum. This event includes breakfast, a Santa appearance on stage, and a summer pass to the Marine Museum. Santa brought to Holiday Alley by Brad Hirst of Royal LePage.
Please note this event has been moved from the Community Canopy to the Riverside Grill! Breakfast will take place between 8am - 12pm. First come, first serve! No reservations or holds.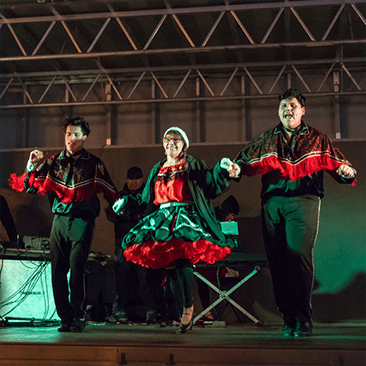 SUNOVA COMMUNITY CANOPY
More music & entertainment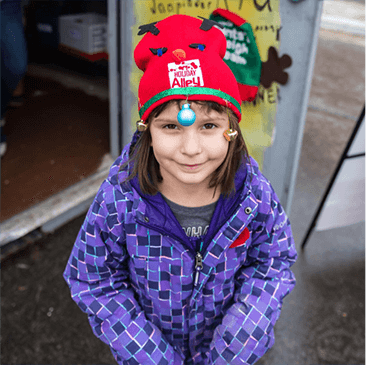 NEW BAKE-OFF
For Holiday Alley's 5th Birthday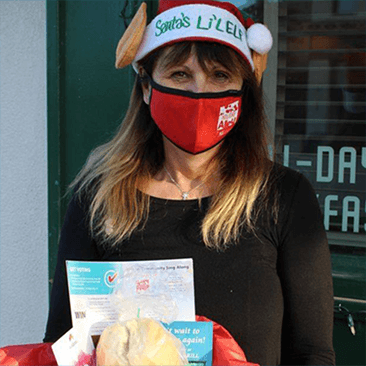 SOUP COOK-OFF
Be a citizen judge!
WISHME MAKERS' MARKET
Expanded to 2 days - Nov. 20 & 27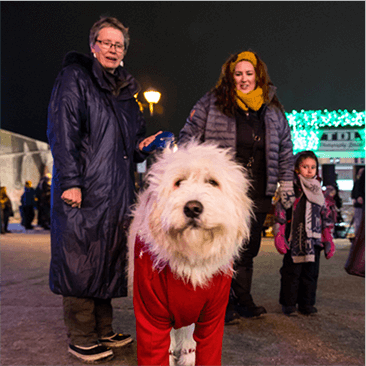 SELKIRK ANIMAL HOSPITAL
POOCH PARADE
Let's see your pups dressed to win!
Sign-up to receive our Holiday Alley E-News! Be the first to know about upcoming events and planning for 2022.  You can unsubscribe at any time.
©2021 All rights reserved by Holiday Alley.